It is no secret that today's job market is struggling. Some of those lucky enough to have a decent job are finding that their work load is going up while their salaries are staying the same, and bonuses are disappearing. With a 12 percent unemployment rate in Florida, according to the US Department of Labor, those out of work are lining up to step in and fill your job if you decide to make a fuss and start proclaiming that it's "unfair" and posting quotes from Ayn Rand's novel "Atlas Shrugged" in the break room. As companies streamline their bottom line by cutting budgets and leaning heavily on their bases, it is no surprise that many people are hitting the classifieds and online job postings in search of their dream job and a little reprieve. However, after the first couple days on the hunt, it is clear that many leads are dead ends or some form of a bait and switch. Disillusion creeps in and that dream job landing in your lap starts to feel further out of reach.
I moved to south Florida to work in the event production industry and, over the past four years, have worked for some great companies and done some exciting events. Miami is known for its great weather and outdoor lifestyle, so it is a good bet that any given weekend will provide a number of events, both local and national. Beaches, venues, parks, amphitheaters and other attractions bring plenty of action our way and also support many local jobs. Although I have always enjoyed my work, it does carry the same frustrations and glass ceiling found in any other industry. Maybe I am just impatient and my "show your worth through your work" attitude has not set me up for the slow and steady pace of the corporate ladder, but I find myself longing for something exciting and new, a company poised atop a unique niche within the industry. It is, after all, human nature to strive for the next level and seek out the "best of the best." For me, that dream job is with a company bold enough to take risks and nurture fresh ideas. And guess what? Last fall one such company fell in my lap.
A friend in Chicago tipped me off to a company his law firm had worked with called Red Frog Events. They are relatively young, currently entering their fourth year, and produce some of the fastest growing events around. In my last article I wrote about one of their events called The Great Urban Race, a traveling urban scavenger hunt hitting cities nationwide, and coming to Miami this March. Their other two events, Beach Palooza and Warrior Dash, round off a trio of home-run productions, putting them in a position of quick and exponential growth worldwide. After checking out the Red Frog Events
. www.redfrogevents.com, I was drawn to the "world's best benefits" tab. Red Froggers are privy to a number of perks: amazing health, dental, life and vision insurance, unlimited vacation days, $100 monthly cell phone reimbursement, free food, drinks and beer, a fully paid four week vacation for you and a friend to Europe, Asia, Africa or Australia, a free birthday massage, a $1,000 match to your favorite charity, and more. It was instantly clear that a job with them would be both rewarding and fun. So, after taking all this in, I was smitten to learn that they are hiring! Every three to four months they bring on a group of interns known as event coordinators to dive right in to their day-to-day activities and learn the ins and outs of event production at their very own Camp Red Frog in Chicago. The only way to get a full-time gig with them is by completing this internship, so I had found my "in" and got right to work getting my foot in the door.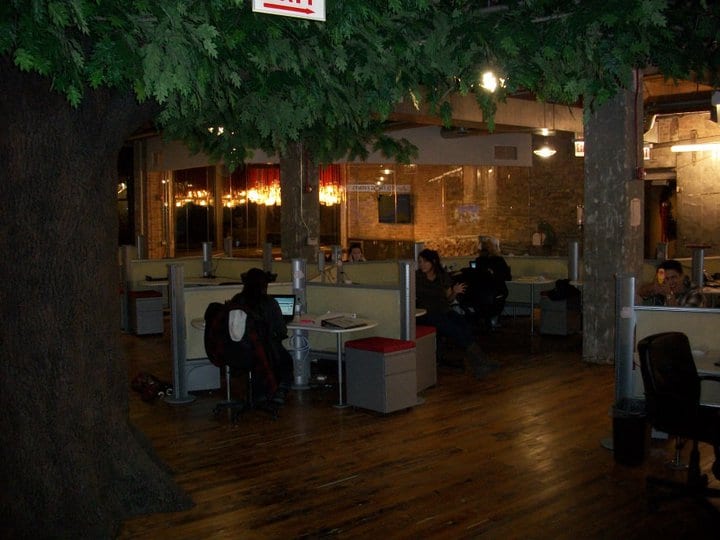 Last October, I sent in my resume, cover letter, and even a YouTube video I made (the position is very sought after so bringing your A-game is a must!) and held my breath. A week later I got a call from their office to set up a phone interview. They receive over 100 applications a day, so this is a big accomplishment. After that goes well, I am informed that I made it to the two percent of people who are offered an in-person interview. A quick call to an old roommate who lives two miles away from their downtown Chicago office confirms that there is a spare bedroom at her place I could use if need be. I book my flight, call my family and try to tame my excitement as I wait for my big day.
The morning of my interview starts with some strong coffee and a glance over my notes before heading up to the fifth floor of their office. My feeling at this moment is comparable to the type of awe you see in the eyes of a child. Standing there off the elevator I felt like Charlie gripping his golden ticket at the gates of the chocolate factory. I was beckoned through a pair of double glass doors complete with hand-carved red frog handles and immediately start to take in the ambiance of the office. Straight ahead are a couple of cubicles with RipStik boards and Nerf guns strewn across the daily calendars. The intern work space is shaded by two giant trees sprouting from the wood floors to the high ceiling amongst lily pad-shaped light fixtures. Past the trees is the centerpiece of Camp Red Frog: the tree house. Complete with rope ladders, a slide, and Fatboy bean bag chairs, the tree house serves as a conference room.
Before the interview I am led on a short tour. As we start, I am led past a projected image of a map listing all their upcoming events. Recently added to their lineup are events in London and Australia. I am led passed a rock climbing wall, a fire pit and a giant stuffed bear; but don't worry animal lovers, it's not a real bear. Last stop before my interview is the kitchen, complete with a soda fountain, free cans of Red Bull, a beer keg (yes, you can enjoy a beer while working!) and tons of snacks for the taking.
I am answering the question, "What sets you apart from the other applicants?" and I can't even remember what I just said. Instead, I am watching their reactions, wondering what they are writing down in their folders. Do they see the real me behind this semi-formal shell? Can't we just grab a couple beers and spend an hour at the corner pub where I can display my infectious charm and wit? I'm wondering how I would judge me if I were them. Did I misjudge what to wear? Am I coming across as desperate? Am I desperate? Are they putting big check marks and smiley faces next to my name or a big, fat X?
The interview ends and we exchange firm handshakes, gracious smiles and warm wishes for the upcoming New Year. I leave the conference room strong, hoping my facade did not give away any signs of the subconscious mutiny I had just endured. As I gather my things and prepare to head back into the cold Chicago air, I pause to take stock of myself. I want to run back there, tell them all the things that I forgot, re-answering the questions with the home run responses that have instantly popped in my head. Instead, I pass back through the double glass doors and down towards the ground floor, wondering how many others applicants will share the same anxiety and lament in this very elevator.
A week later I received an email letting me know they chose another candidate for the position. Bummer, but I was kind of expecting it. I thanked them for the opportunity and wished them well, with a postscript that I would love to be considered for future positions if and when they open up. In retrospect, it kind of felt like offering my number to the girl who had turned it down the night before. At this point I am back in Miami getting back into the swing of things with work and preparing for the night's New Years Eve party. The year 2010 is just hours away from being behind me and, surprisingly, I feel great. As the ball drops I am at a house party at the Cloisters in coconut grove, standing on the roof of a condo and watching the fireworks shimmer over Biscayne Bay. All around me are people I love, people who love me for being the person always there to cheer them up with humor or a good story. I realize that the tragedy I thought I had endured was no more than a noble shot in the dark with a company that gave me a great interview experience and an optimistic perspective for the new year.
Two weeks after hearing about the company, I had secured an interview granted to only the top two percent of applicants. If I can get such a positive response from seeking out my own job prospects instead of wading though the same old job posts I find only semi-worthwhile, then perhaps sitting around and waiting for opportunity to find me was not the right approach. With a little refinement and leg work, I am sure 2011 will be the year I utilize this seek-and-employ attitude with other great companies.
The job hunt is a race not unlike those put on by Red Frog Events. You must challenge yourself, take some risks, put on your best warrior face and aim for the finish line. As the last of the fireworks explode across the water, I raise a glass to my fellow Miamians and drink to high hopes, broad perspectives and endurance on the battlefield.